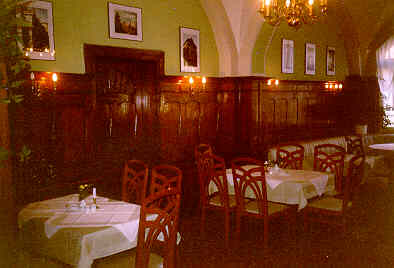 If ever a declaration of interest needed were needed, then that time is now. On this spot, we celebrated my wedding reception and it will, accordingly, always (or at least until my wife finally loses her patience with my irresponsibility) evoke within me unique associations. You've been warned - don't expect Mister Rational to remain within the audatorium for the duration of these paragraphs.

Then again, I wouldn't have recognised it if my father-in-law hadn't pointed it out to me as he drove me into town. "Now, we'll have to go down this way, mate, 'cos of the *ing one-way system in this *ing town. See that place there, gov? That's where we 'ad the knees-up after you tied the knot, if I 'member it right." (My pathetic attempt at argot is only my silly,inadequate my way to convey the spirit of of the moment. The fact that he really is a taxi-driver is of no relevance here. (My god, he is the bloke who drove me to the Schmitt brewery in Singen, an act for which I will never forget him.) Memory is a fickle friend. I recognised countless other personally totally meaningless landmarks in Eisenach, yet this very significant place sparked not the slightest flicker of memory. My mind must have been on other things at the time.

Now where were we? I was about to launch into my second apology, which is for forgetting to photograph the exterior. I have a good reason for this, in pretty well all circumstances other than these. You wouldn't believe how many photos I take in the course of this grueling research. Even so, there are occasions on which I need to be economical with the film stock So I've got into the habit of taking the exterior shot upon exit rather than before entry. There are many dangers inherent in this approach: the light conditions deteriorating whilst inside; not being conscious when leaving; forgetting.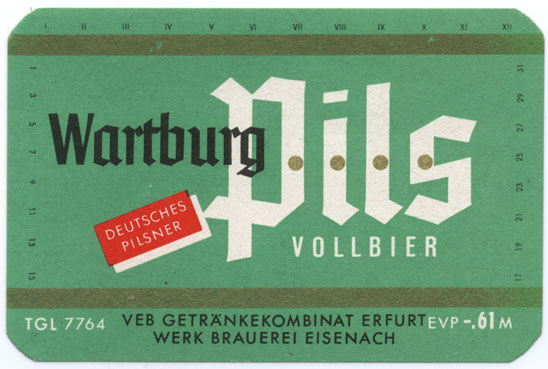 My usual reason for the delay in snapping away is fear of disappoinment. How many photos sit sadly in my albums of pubs, unreported in these pages, who let me down. From the outside everything looks good, so, whip out the camera, push the button and rush inside. How similar, as Swiss Tony says, this experience is to "making love to a beautiful woman". These chastising images of a charming appearance harbouring corruption within, haunt every visit to my archive. Traumatised by these experiences, I have become accustomed to capturing the wonderful pictures which grace these pages after leaving, when I'm certain that we're talking about high class broad and not low-rent hooker.

After all this prologue are you still reading? Do you care what this very special hotel/restaurant/pub looks and feels like? I can't say that I'm not tempted to tell you nothing at all. To let you peruse the the pics (sadly lacking one of the most vital) and come to your own conclusions. But what is the point in me making all the effort to produce these pages, if I can't force my bigoted and ill-founded opinions down your throats? If you want to see how the exterior looks, the photo on the hotel's homepage is better than I could have managed, anyway.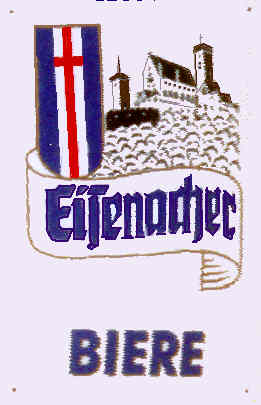 A lot has changed here since my brother gave his bestman's speech. In those days it was a hospice (a sort of cheap hotel/restaurant, not the last resting place of the terminally ill) owned by the protestant church. That's the half-timbered bit on the corner. The restaurant is still retained in (as much as my irritating memory can recall) its original form. The lump adjoining it is the hotel/bistro built when, as a weird side-effect of privatisation, church property got sold off, too. You couldn't build anything with even the vaguest of pretensions to hipness that didn't have a whiff of post-modernism, so on the ouside that's what you get.

The new appearance had me fearing the worst. But I was sadly disappointed in my lack of disapppointment with the interior. The bistro is (as you xcan see above) rather swish but at the same time has a real sense of place, mostly through the thoughtful use of old photographs. Bastards. Why couldn't you make a real pig's ear of it? For goodness sake, almost everywhere else in the world they can manage disastrous conversions/extensions/renovations. How come they didn't mange here? The desgner must have studied in the East - where they taught trades poperly.

The beers? Well, nothing too out of the ordinary. Three of the draught beers are pils, but, if you want a quick guide to former-DDR pils beers, this could be a fair crash course. Bottled they've got Eisenacher Schwarzer Drachen and the set of Franziskaner wheat beers.

There's a beer garden at the back, by the way. And it's a hotel. course. Looks pretty nice, too, but you would have to check their website for prices. I would suggest haggling: the major tourist sources - the USA and Japan - are running dry at present, causing a bit of a draught in the hotel trade.