Introduction
EAST BERLIN, over-shadowed by its western half, is nevertheless a city of considerable architectural interest.

Not least of those attractions are the old pubs and many of them have managed to survive both the bombs of the RAF and post-war reconstruction.

To discover the unspoilt gems, you have to stray away from the usual tourist path of Unter den Linden, Alexanderplatz, and Friedrichstrasse and make an excursion to Prenzlauer Berg.

Lying a mile or so north of Alexanderplatz, this old working-class district is the largest surviving area of pre-war buildings anywhere in Berlin, East or West. Full of turn-of-the-century tenement blocks, many rather in need of repair, it conjures up the atmosphere of the Berlin of the Weimar republic.

Schönhauser Alle, one of its main thoroughfares, contains a string of night clubs and late bars, but most of the entertainment is provided by small, local pubs hidden among the back streets.
Index
Berlin Pubs
Berlin Beers
Pub Listings
Notes
East Berlin Breweries
Those pubs today

Beers
East Berlin has several breweries, whose beers are sold under a variety of names including Kindl and Schultheiss, which are also used by different, private breweries in West Berlin. The signs outside pubs do not really indicate what is on sale inside - for instance, there are signs still for Burgerbräu, a brew which no longer exists [This statement is totally untrue - not only was Burgerbräu still brewing in 1989, it's one of the few remaining large breweries in Berlin today. R.P.] - or many simply say "Berliner Bier".

All of this can make it difficult to know exactly which brewery the beer came from. The beer types are:



Weisse: a top-fermented beer made with a mixture of wheat and barley malt of around 9º Balling. It is naturally conditioned when bottled and on draught unfiltered and full of sediment. It is usually drunk mixed with a sweet, red fruit syrup or" Schuss". To get just the beer it should be ordered "ohne Schuss".

Hell: a cheap pale lager, often rather thin. It isn't usually sold on draught in Berlin, but can be found in bottles in supermarkets.

Pils: The standard beer, a pale lager of around 11.5º Balling. It is often unpasteurised even in bottled form, and the better examples are pleasantly bitter and drinkable.

Pilsator: A premium version of Pils of around 12.5º Balling. It is higher quality and fuller-bodied, but unfortunately usually pasteurised in its bottled form. A common bottled version is Echt Berliner.

Bock: A strong bottled winter beer of around 16º Balling, which comes in both pale and dark versions.

Porter: A top-fermented bottled porter of around 18º Balling can occasionally be found in shops.



Pubs
Apart from when you sit at the bar, waiter service is the norm in the DDR. Standing is not usually permitted, which means if you want a drink you have to find a seat.

This is not always as easy as it sounds. "Reserved" signs often adorn tables that are obviously going to remain unused all day. DDR waiters also have a great sense of order and hence a pathological hatred of the furniture being rearranged.

Any attempt to move a chair from one table to another is usually met with a strict reprimand. All this means that it is unwise to attempt a pub crawl.

Though most bars are run by HO, a state company that covers all types of retail outlets such as shops and restaurants, there are also some private pubs.

Assuming that most people enter East Berlin by Checkpoint Charlie or the Friedrichstrasse S and U-Bahn station, the most logical place to begin is Friedrichstrasse itself. In the ground floor of the new Grand Hotel on the corner of Unter den Linden is Stammhaus Kindl (open 10-24), a specialist beer bar.

It serves a wide range of beers from the DDR, plus a couple from Czechoslovakia. The selection includes Berliner Pilsator and Weisse, Wernesgrüner Pils, Radeburger Pils, Pilsener Urquell and Budvar.

The interior is plush, all leather, mahogany and brass. It's obvious that a lot of money was spent on the décor and this is reflected in the prices, which are the most expensive in the DDR at around 6M for half a litre.

Not the place for meeting the locals for only West German tourists can afford to drink here, but worth a visit to sample a slightly wider range of beer.

Walking down Unter den Linden away from the Brandenburg Gate, past the Dom and across the River Spree by the Palast Hotel you come to Spandauer Strasse. Take a right turn and you will come to the Marx-Engels-Forum, a parade of fashionable shops by the Rotes Rathaus.

Here is the Weissbierstube (10-24) a small, new pub specialising in Berliner Weisse. It sells Berliner Pilsator and Weisse, and offers various Weisse cocktails. Its two small rooms are simply furnished and feature some attractive, if rather enigmatic, enamel signs.

Between Spandauer Strasse and the River Spree is the Nikolai Viertiel, a newly-renovated area around the restored Nikolai Kirche. The idea was to recreate some of the old core of the city and, with its mixture of reconstruction and new buildings designed to blend in, it works reasonably well.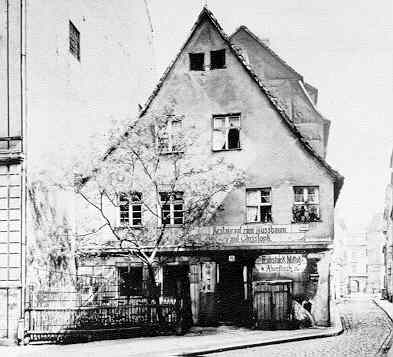 On Am Nussbaum is on of the reconstructions, Zum Nussbaum (10-24), which sells Berliner Pilsator, Weisse and Echt Berliner. The original, which included the artist Zille among its regulars, was built in 1571 but destroyed by bombing in 1943. The new version has a cosy and reasonably authentic atmosphere, with several small, rather cramped rooms. It also sells good, if rather expensive for the DDR, snacks.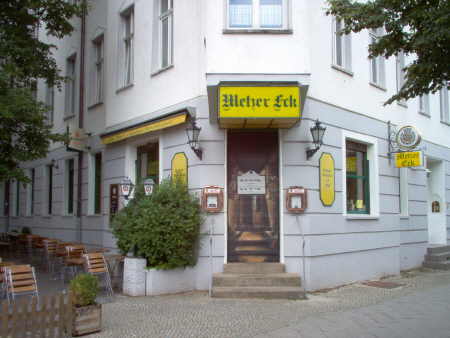 It is only a short walk to Alexanderpiatz from where you can take the U-Bahn to Prenzlauer Berg. Take the line in the direction Pankow (Vinetastrasse) and get off at Senefelderpiatz. This will bring you to within a hundred metres of the next stopping off point, the Metzer Eck (16-1) on the corner of Metzerstrasse and Strassbourgerstrasse.

The street has the crumbling plaster facades typical of the whole area, but don't be put off by the apparent delapidation, for this is the real Berlin. The Metzer Eck is a small private pub, with a few more personal decorative touches than the standard HO bars, but with the same low prices. Here half a litre of Berliner Pils should cost you just over 1M.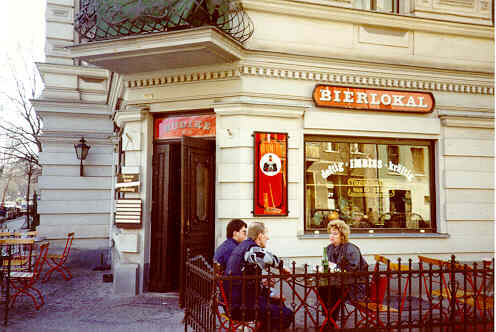 Walking back along Metzerstrasse and then turning right up Kollwitzerstrasse you will come to Kollwitplatz. On the opposite side of this pleasant little square is Husemannstrasse, a street which has been restored to its original turn-of-the-century appearance. It features a whole array of old shops - a chemist, a greengrocer and, of course a pub, Budike 15 (10-22) [Husemanstrasse 15}. It sells Berliner Pilsator, Weisse and Echt Berliner and has simple wooden furniture.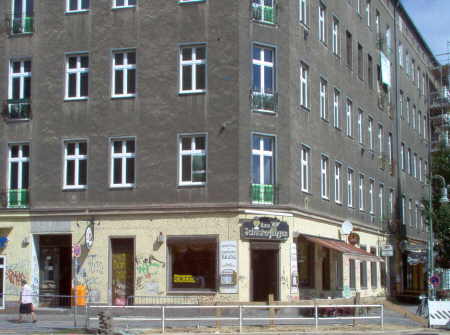 Continuing along Husemannstrasse, you come to Dirnitroffstrasse [today Danzigerstrasse R.P]. Turn left and you will come to Zum Hackepeter (Wed-Thu 15-24, Fri-Sun 15-1, Mon-Tue closed). This basic corner local sells Berliner Pilsator and Weisse, During the 20's this was a Nazi "Stammlokal" while the pub opposite, Zum Schusterjungen [Danziger Str. 9,10435 Berlin] (11-23), was used by the communists. It is an unpretentious two-room affair offering Berliner Pils and Weisse and reasonable cheap food.

Just before the junction of Dimitroffstrasse and Schönhauser Allee is Pappelallee, another street that has seen better days. About 100 metres along on the left is Kohlensaure Niederlage (Wed-Fri 11-21, Sat-Sun 10-21, Mon-Tue closed), which may be a little difficult to spot because of its almost illegible sign. Inside is a genuine untouched old Berlin local selling Berliner Pils, and boasting an antique fruit machine among its sparse furnishings. The atmosphere, like the décor, is down-to-earth and friendly.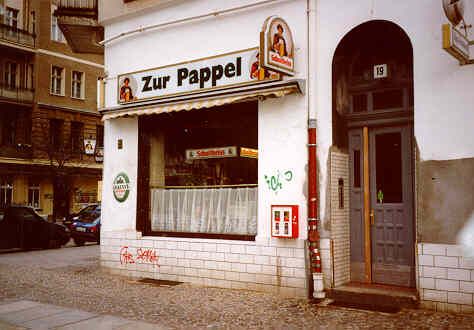 A little further up Pappelallee, on the opposite side of the street is Zur Pappel (Mon-Thu 11-21, Fri-Sun 14-24) serving Berliner Pils. This one-room pub has an impressive old wooden bar and a bizarre balcony at the rear. The standard 1960's HO tubular steel tables may detract a little from the charm, but it's still a pleasant enough place in which to drink a pint or two.

Continuing along Pappelallee, over the S-Bahn line, where it becomes Stahlheimerstraße, you will eventually come to Humannklause on the left-hand side of the street. It sells Berliner Weisse and Pils (outside are some rather nice Schultheiss signs, but who knows if that is really the source of the beer). Inside, it's more comfortable than most of the other pubs in the area.

On the last side street before the end of Stahlheimerstrasse, is Bräustübl (Mon-Fri 16-24, Sat 9-13, Sun closed) which offers Berliner Pils. Housed in the ground floor of a l920's block of council flats, this consists of a small tap-roorn and another somewhat larger room with waitress service. Despite the rather spartan furnishings, the atmosphere is pleasant enough.

Taking a left along Wisbyerstrasse at the end of Stahlheimerstrasse, it's only 100 metres or so to Feierabendklause (10-22, closed Tue), whose bizarre colour scheme and tatty exterior belie the comfortable pub inside. It has Berliner Pilsator on draught and also offers good, cheap food. Its apparent popularity with the locals means that it can be difficult to find a seat.

Now carry on along Wisbyerstrasse until it meets Schönhauser Allee, where on the corner is Rennsteig (10-24), selling Berliner Pils (the sign outside says Engelhardt). The simple pine furniture with which this substantial pub/restaurant has recently been refurbished gives it a cosy welcoming appearance inside.

To return to the city centre, assuming that by now you don't feel like walking it, continue down Schönhauser Allee a few hundred metres and you'll find an U-Bahn station.

Author's notes

I wrote this guide to East Berlin pubs just a couple of months before the fall of the wall. During 1988 and 1989 I had spent a considerable amount of time in the east of the city (Prenzlauer Berg in particular), visiting my future wife. I came to love the crumbling Edwardian splendour around Schönhauser Allee.

The situation this guide describes was to change beyond recognition within a very short period of time. First came a flood of beer from West Germany, decimating the ouput of all the breweries in the DDR. Privatisation of the brewing industry was conducted with an incompetence that seemed (and arguably was) positively malicious, especially in Berlin.

These are the breweries that were active in East Berlin at the end of 1989:

VEB Berliner Bürgerbräu

VEB Berliner Kindl Brauerei

VEB Brauerei Bärenquell (closed 1994)

VEB Engelhardt Brauerei

VEB Getränkekombinat Berlin (Berliner Pilsner Brauerei, founded 1902; bought 1920 by Kindl and became Berliner Kindl Brauerei Abteilung III; 1945 became a Sovjetischen Aktiengesellschaft (SAG); 1969 became part of Getränkekombinat Berlin; 1990 (or 1991) bought by Brau und Brunnen (Kindl); 199? sold to Schultheiss after Kindl had bought the Potsdamer Rex-Brauerei.

VEB Schultheiss Brauerei Leninallee

VEB Schultheiss Brauerei Schönhauser Allee, Abt. Weissbier (home of the classic Berliner Weisse and the first revived Leipziger Gose)
Where are they now?

John Amer sent me this report on the state of these pubs in early 2005:


"In your article you didn't put any road numbers in, but I am reasonably certain I didn't miss any pubs. So here goes.

Metzer Eck still there. In some some Berlin tours guide as a good example of a good Kneipe.

Budike 15. If this is number 15 Husemannstrasse, it is now called November and done out in yuppie/ grand cafe style. There also a Irish pub in Husemannstrasse, just called the Irish Pub!

Zum Hackepeter now a Indian Restaurant.

Zum Schusterjungen still there. Front part is still pubby, the back is mainly eating.

Kohlensaure Niederlage unable to find.

Zur Pappel unable to find. [Now called Sergena, Pappelallee 19. R.P.]

Humannklause unable to find.

Braustubl still there. Been refurished, good back street local.

Feirabendklause unable to find. [I think it's now Mauerblümchen, Wisbyer Str. 4. R.P.]

Rennsteig unable to find. "