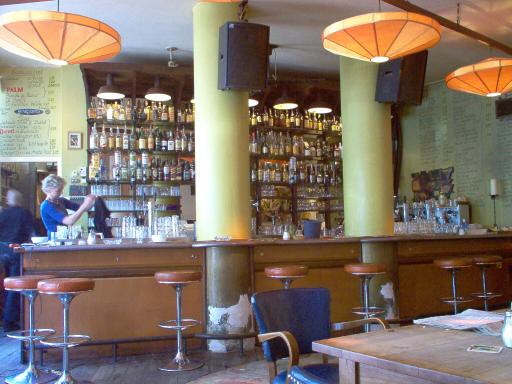 Schuim is a decent-sized pub in a rather bland new building, not far from Dam Square (or the Bier Koning, Amsterdams best beer shop, which is just around the corner on Paleisstraat). I suggest you take this photo along with you for identification purposes, as there isn't really any sign (OK, there is a tiny one, but I challenge you to spot it on your first visit) to give away the pub's name.

The style of the interior is unashamedly modern, but with enough effort and thought put into it come up with the something attractive and comfortable. The furniture is a slightly jarring mixture of garishly coloured low armchairs and heavy stiff wooden tables and chairs.

It also acts as a gallery and the walls are hung with changing collections of paintings. These range from being quite good to putting you off your beer, but if there's anything you particularly hate you can at least reassure yourself with the thought that it will be gone in a couple of weeks.

With part of the university directly opposite, it, unsurprisingly, attracts large numbers of students. But don't let this put you off too much, as there is also a reasonable number of normals, even some over 30.

A combination of the disastrous bar counter design (pillars almost totally hide the barstaff from view) and the quaintly surly, uncooperative sloths standing behind it, has created a level of service way below even Amsterdam's usually crap level. If you're in no hurry, seeing just how long it can take to purchase a single beer, can be good fun. An attempt to buy a round at 11 o'clock on a Friday night doesn't raise quite as many laughs.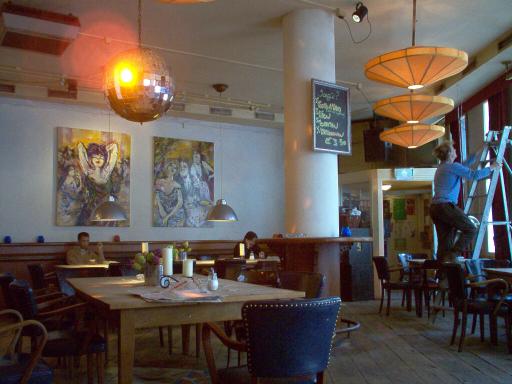 Very little has changed in Schuim, except for the paintings. You can see how busy it was on the afternoon of my visit, yet it still took two barstaff 5 minutes to serve me. Look at the photo of the bar and you can see where desperate drinkers have started chewing the pillars out of frustration. I fully understand.

One addition - and one of the few places you'll find the pub's name - are brass fretwork lampshades. Nice. A bit hippy, but nice. Where's my camera so I don't need to trouble the thesaurus again.

A bizarre pricing policy sees La Chouffe good value , but Duvel expensive. I've tried, but I can detect no logic behind the prices. It all adds to the anarchic charm. Bitburger Pils has gone, but there is still a guest tap, often serving an Ij beer.

Oh no. One of the paintings is starting to look quite good. I don't remember consuming any mushroom dishes today. There has to be something wrong with my senses. I had best just give the beers in my notes a quick count - 1 ... 2, 3 ... That can't be it. Could the cause be:

my eyesight is failing
my taste has been lost
there's very clever lighting in here
That's all the possibilities, except ones with space aliens or dragons. Or maybe there's one more possibility, no matter how improbable ....

Despite several crap features, I still really like Schuim. It has personality. An often annoying, but occasionally disarming, one.

What else can I say about Schuim? Oh yes, it's Xavier Hollander's favourite Amsterdam bar (at least that's what she claimed in the local paper, Het Parool). It's also a "smoking" bar. Spend any length of time here and you'll realise that my mates don't just call it "Scum" because the real name is too hard to pronounce...