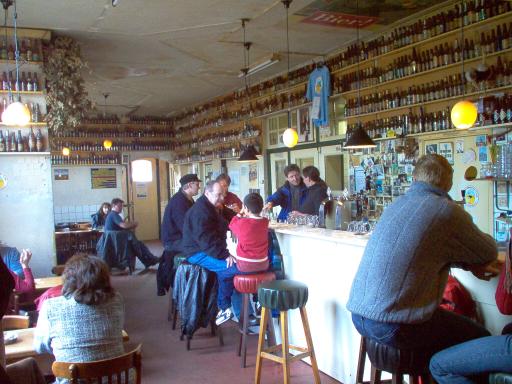 The wonderfully simple brewery tap of the Ij brewery, in a picturesque windmill on a canalside, is most definitely worth the trip out of the city centre.

The quickest way to get there is a number 22 bus from Centraal Station. It takes about 7 minutes and stops right outside.

The slightly inconvenient location helps prevent it being overrun with tourists and, no doubt, keep the prices down.

It's very basic inside, with an incredible collection of beer bottles plus a couple of old signs from the buildings previous life (as a public baths) forming about the only decoration.

Through a set of double doors you can see through into the brewery itself, but as this is a small brewery with a tasting room attached rather than a pub brewery, the equipment is purely functional rather than having a dual decorative purpose.

In the Summer, there's a small garden area outside. But be warned that the number of seats is quite small, so if you want to soak up some sun with your alcohol, get there very early. At the weekend in can get very full very soon after opening time, with a fairly diverse crowd.

The draught beer range varies slightly with the season - in Easter there's Paasij, in Autumn a Bokbier - but you'll always find four or five on tap. Given the limited availability of their beers on draught elsewhere (they can't supply demand), this is your best bet for finding Ij products. Oh, yes, it's also amazingly cheap, with the strongest beers only costing €2.50 for 30cl.

Note that no alcohol is sold other than their own products, except for wine.

Read more about the brewery and its plans.