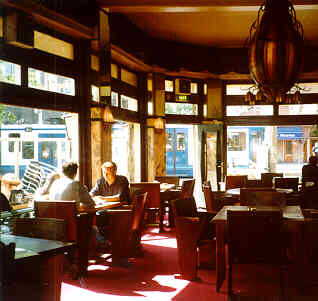 I was quite surprised to find that Wildschut, which I had thought to have included back somewhere around the beginning of history, was still missing from these pages. My only explanation is another of those black holes which occupy so many of the slots allocated for the past in that twisted lump of sausage called my brain.

I rode past Wildschut for many years on the tram ... no I've already done that one ... Wildschut is on Amsterdam's only square to compete regularly in the Champion's League of European public spaces ... no, that doesn't work either ... Roelof Hartplein is why Rem Koolhaas should top himself now ...

No, sorry. That's it. I've officially run out of ideas. Which is a great shame, because, if it deserves anything, a pub of such beauty, one tooth in a full bite of pearls, is an original (or otherwise) idea.

It's slightly odd that a town with as many stunning buildings from the 1920's and 30's should contain such a paucity of art-deco (or fat ugly sofa style as that philistine who claims to be my elder brother always calls it) interiors. De Wildschut, by itself, fully compensates for that lack. I will let the photographs speak for themselves, those gossippy little ruffians.


Wildschut forms - quite literally - one corner of Roelof Hartplein, which explains its unusual L-shape. You enter at the junction of the two arms, each of which is a separate bar. Lots of the original 1930's features have been retained, including some smaller pieces of etched glass in the windows and the light fittings. The latter are certainly pretty funky. One (see photo) looks like alien chrysalis hanging from the ceiling. I hope nothing starts hatching while I'm in . . .Old cinema seats sort of fit the art-deco theme, but aren't always the most practical form of seating.

Turning to the square itself, Wildschut occupies a typical Gruter creation - lot's of elegantly curving brick balconies. Lydia, the young ladies' hostel over the road is unmistakbly by Boterenbrood, with its enchanting asymmetry and multiplicity of window forms.

Whilst the library on the remaining side (see photo right) slits open the junction like an ocean liner at full speed. I wasn't joking about it being one of the best public spaces in Europe.