The Polish brewing industry
Since the denationalisation of most of the industry, most of the larger concerns have been gobbled up by foreign multinationals. Heineken, South African Breweries (SABMiller) and Carlsberg now control a majority of the market between them. Their domination will only increase with time. These international companies have already "rationalised" their Polish operations, closing some smaller breweries.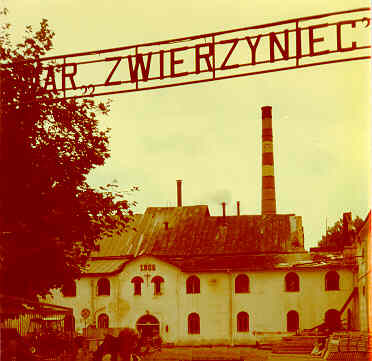 I expect that life will become increasingly difficult for the smaller, more old-fashioned breweries who lack the capital to invest in new equipment or advertise their beers. In all likelihood, many will close, leaving half a dozen large companies to take most of the market, as is the case in the rest of Europe. The overall number of breweries may well remain around the 70 mark, however, with the arrival of pub-breweries. There are already a couple, but this will surely increase. The only surprise was how long it took them to start up in such obvious places as Warsaw or Cracow.

The 1990's saw a surprising number of new small to medium size breweries start up from scratch. Some have grown to such a size (production of over 100,000 hl per year) that it is difficult to categorise them as micro breweries. The beers which they brew are much the same as those from the established breweries.

The current number of active breweries is 71. The breweries break down as follows:


| | | |
| --- | --- | --- |
| Brewery | No. | Details |
| SABMiller | 3 | Owns Kompania Piwowarska, which consists of Dojlidy, Lech, Tyskie. |
| Heineken | 7 | Owns Grupa Żywiec SA which consists of: EB, Królewskie, Kujawiak, Leżajsk, Warka, Zamkowy, Żywiec. |
| Carlsberg | 5 | Carlsberg-Okocim SA. Owns these breweries:- Bosman, Kasztelan, Okocim, Piast, Piast - Zakrzów |
| Browary Polskie Brok - Strzelec SA. | 4 | A group made up of Brok, Brok - Połczyn-Zdrój, Rybnik, Strzelec. |
| Independents | 49 | Vary greatly in size and age. I have included in this category all new stand-alone breweries. |
| Brewpubs | 3 | The first brewpubs started to appear in the 1990's. They haven't taken off as they have in some countries. |
| Microbreweries | - | It's difficult to define this category in Poland. Usually I would include all the breweries founded since 1989. However, as some produce in excess of 250,000 hl, the term "micro" isn't very appropriate. |
| Contract Brewers | 1 | Stary Krakow is the only one so far.. |
Polish Beer Styles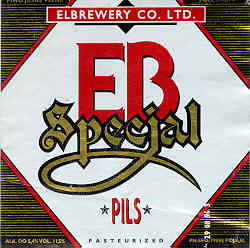 Most Polish breweries have have a half dozen or so products, for the greater part pale lagers of varying strengths from 10.5 - 14% balling or 4 - 6% alcohol. Most pale lagers are very fully attentuated, presumably with value-conscious consumers in mind. The big sellers are around the international lager standard of 5% alcohol and a density in the region of 11 -12° Plato.

As in the Czech republic, there is often no claim of a specific style, just a reference to the original gravity in degrees Plato. Some beers are labelled as Pils or Pilsener, but without much rigour or consistency. The term "Specjal" seems to mean little more than a beer with a density of more than 12° Plato. Even breweries in Silesia, which was long under German control, have not retained German nomenclature such as Helles, Export or Bock.

Lower-gravity lagers (in the 9-10° Plato range) are unknown in most countries, except for Poland, Slovakia and the Czech Republic. Polish breweries usually make a couple. How to describe them in English is a bit of a problem, as the terminology doesn't really exist. The German term "Schankbier" is almost right, but doesn't usually cover beers of over 9° Plato. In my Czech Breweries page, I've stuck to the Czech designation "výčepní". This is probably the most accurate term to describe the weaker Polish lagers. They're meant to be serious beers, but are of a "session" strength.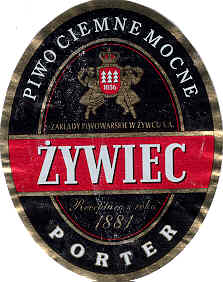 Unsurprisingly, given the high degree of attenuation, most of the "full" pale lagers tend to be light in body, dry and hoppy. The better ones can be assertively bitter and stand up well in comparison to Czech beers of a similar strength.

Many breweries have multiple brands of exactly the same strength and density. In all likelihood, most of these are label beers. It's a bit frustrating that there is so little variation. It's not uncommon to find six pale lagers and nothing else in brewery's range.





Bottom-fermenting Styles


Style
alc.
Plato
description
Piwo jasne lekkie
3-4%
8-10°
Pale lager of under 10° Plato. It means literally "Pale light beer". Schankbier. "Výčepní"
Piwo jasne pelne
4-5%
10-14°
Usually translated as "full light beer". It means a pale lager of full strength, i.e. at least 10° Plato.Most Polish beers fall into this category.

It covers beers in the Pilsner style and in the Export or Spezial (Specjal) styles. Those at the weaker end are like a Czech "výčepní" pale lager - a sort of session-strength Pils.
Piwo jasne mocne
6-9%
14-18°
A pale strong lager, a minimum of 14° Plato. It covers some beers that could be classified as pale Bocks and others that fall between a Spezial and a Bock.
Märzen
6 - 7%
14°
Amber lager. Though they don't use the name, there are a couple of beers in this style.
Bock
7 - 10%
16-20°
Amber lager. There are some examples of this style, though not always called Bock by name. The true Polish term is "Kożlak".
Piwo ciemne
6 - 7%
13-14°
Dark lager. Usually the strength of a Dunkles Export rather than a Münchener. Not that many breweries still produce one and they are a somewhat endangered species. Which is as shame as all the pale lagers can get quite boring. Also called "Piwo czarne".
Porter
8 - 9%
18-20°
Strong porters, sometimes called "piwo ciemne mocne". Usually the only draught alternative to pale lagers. True baltic-style porters, they are too much on the treacle/cough medicine side for some. In the last couple of years several breweries - notably the Carlsberg owned ones, such as Okocim - have dropped their porters. Currently around 10 breweries still produce one. Zywiec is the most common and seems to be the only draught porter still made.
Top-fermenting Styles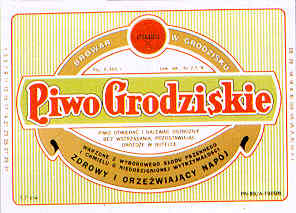 Poland's only truly interesting indigenous beer style was Grodziskie, a top-fermented smoked wheat beer. It was the last survivor of a style called Grätzer (derived from Grätz, the German name for Grodzisk) and was once popular across northern Germany. The only brewery producing it was closed sometime in the mid-1990's. The owner, Lech, argued that continuing production there was "uneconomical". So, that's one more beer style to cross off the list.

The only top-fermented beer currently being mass-produced (that is, not by a pub brewery) is a version of the Belgian pale ale Palm. The Belgian brewery has bought into an existing Polish enterprise and helped them build a new brewery. The new company is, slightly oddly, called Browar Belgia.

There are some amber beers which claim to be brewed to an Irish recipe and have inspiring names such as "Belfast". Without any evidence to the contrary, it is probably safe to assume that these are, in reality, bottom-fermented beers of indeterminate style.

Grodziskie (Grätzer Bier)
Grodziskie was the only truly ingidenous Polish beer style to survie in the second half of the 20th century. It was a top-fermented, smoked wheat beer. It was the last survivor of a style called Grätzer (derived from Grätz, the German name for Grodzisk) and was once popular across northern Germany.

This is the earliest mention I've found of the style:

"Pohlnische Biere. Pohlen liebet besonders die weißen Biere, die es auch verschieden, und sehr vortrefflich, hat; z. E. das Gräzer und Lobsenzer, vornehmlich aber das Waretsker Bier, welches leztere, wenn es alt geworden, an Klarheit und Farbe dem Weine gleichet."

"Polish beers. Poland especially likes white beers, of which it has several excellent ones, for example Gräzer and Lobsenzer, but mostly Waretsker Beer, of which the latter, when aged, resembles wine in colour and clarity."
"Oeconomischen Encyclopädie" of 1773
Grodziskie (or Grätzer as it was called in German) seems to have been quite common pre WW 1, as the name crops up quite a bit. I recently found this:

"Nach den vorliegenden Angaben sind beim Verkauf in Fässern von den Brauereien abgesetzt worden: gewöhnliche obergärige Biere bis zu 12 M., bessere Sorten in der Regel zu 12 - 18 M. (Grätzer Bier 12 M.), untergärige Schankbiere zu 14-18 M., Lagerbier meist 17-25 M. für 1 hl."
Zeitschrift für das gesammte Brauwesen 1894, p.31
It's talking about the wholesale price of draught beer in the Brausteuergebiet (all of German territory at the time, except Bavaria, Baden, Württemburg, Alsace Lorraine and Luxemburg): -

ordinary top-fermening beer up to 12 M. per hl
better types of top-fermenting beer 12-18 M. per hl (Grätzer Bier 12 M.)
bottom-fermenting Schankbier (I guess 10° Plato or less) 14-18 M. per hl
Lagerbier mostly 17-25 M.
What's interesting is:
- Grätzer is the only specific style named;
- even the weakest bottom-fermenting beer is the same price as the best top-fermenting beer.

I think it's safe to assume that at this time Grätzer was pretty well-known.

In 1894 the district Posen (now the Polsh Poznań) had 158 breweries of which 101 were top-fermenting, producing between them 177,038 hl in the brewing year 192/93. The 57 bottom-fermenting breweries produced much more - 307,800 hl. Which made the proportions 37% top-fermenting, 63% bottom-fermenting. The only region producing a higher percentage of top-fermenting beer was the Kingdom of Saxony at 41%. (Over the whole Brausteuergebiet percentage of top-fermenting beer was 23%.) (Source: Zeitschrift für das gesammte Brauwesen 1894, p.23)

In "Księga Piw i Browarow Polskich" ("Book of Polish Beer and Breweries"), Tadeusz Kaczmarek, 1994 dedicates pages 266 to 274 to Grodziskie. Here's a summary of the most interesting bits.
It's thought that it was first brewed sometime in the 14th century.
It was related to German Weissbier, but had its own specific taste from the use of smoked wheat malt.
It was brewed using an infusion mash.
It was bottle-conditioned.
The 5 breweries in Grodzisk (Grätz) produced:


year
output (hl)
1863
7,000
1873
20,000
1883
70,000
1893
80,000
1900
100,000
Source:
"Ksiega Piw i Browarów Polskich" ("Book of Polish Beer and Breweries"), Tadeusz Kaczmarek, 1994, pages 269

In the 1990's 3 variations were produced:


| | | |
| --- | --- | --- |
| | Plato | ABV |
| Grodziskie | 7.7° | 2.5% |
| Grodzisz | 12° | 3.5% |
| Bernadyńskie | 14° | 3-5% |

It's one of my lasting regrets that I never tasted Grodziskie, despite having visited Poland when it was still brewed.

Where to buy Polish beer
The German site appeti sells a small range of Polish beers online.